How Targus Provided MMC with Their 'Lightbulb' Moment
January 05, 18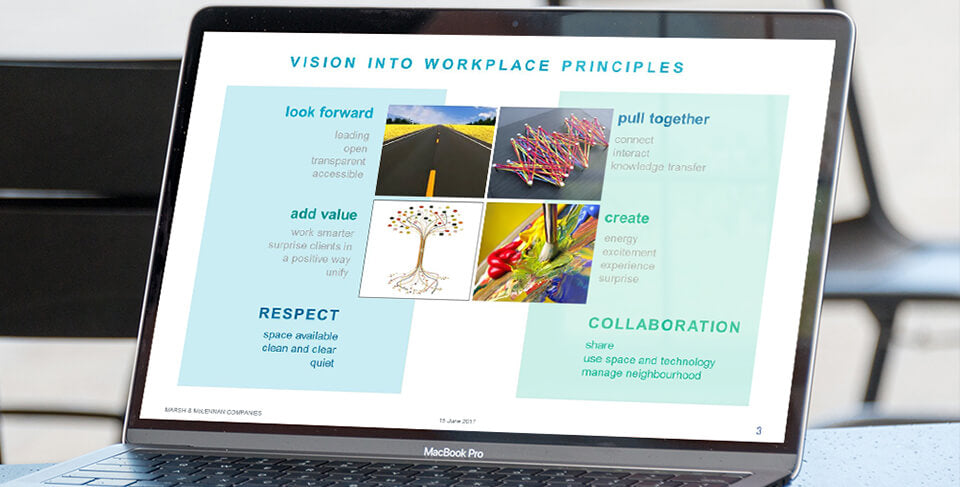 MMC brings together the service capabilities of Marsh, Mercer, Guy Carpenter and the Oliver Wyman Group to offer clients solutions in risk, strategy, growth and human capital. They are a global leader in insurance broking, innovative risk management and investments.

The challenge:
Creating a global smart office
With a transformative business strategy focused on activity based working, MMC chose their Sydney office as the first location to become a Smart Office, with eight global locations, including Wellington and Brisbane, set to follow suit.
The goal was to reduce their 18,000sqm office to 9,300sqm while making it a more efficient and productive space for their 1,000 employees. For MMC, it was not a real estate decision to move office spaces, but a conscious choice to adopt an agile working culture and transform their workplace environment for the better.
Essential elements requiring new technology solutions included teamwork, planning, communication, trust, and interconnection. A primary objective was to create a collaborative work space that would be as applicable today as it would 12 years from now, so having an eye on the future would be critical to its success.
With only eight months for the business and project team to initiate the design development stage, and not enough lead time for on-site testing, the challenge was to make the right technology decisions early.
The starting point:
Criteria and concerns
SmartOffice principles include:
100% open plan
Seven desks for every ten employees
Space usage to be equally split between collaborative and individual work areas
Ubiquitous connectivity between floors and stairs.
The project implementation team had no knowledge or experience with sourcing the technology they would need for a successful agile working environment, but they did know what user experience they wanted. With multiple devices being used on-site they knew a universal dock solution available at every desk via one cable was necessary. They needed a tidy solution that sat under the desk rather than above it, that could be easily accessed by employees and able to cater to a variety of different devices.
A priority for MMC was that the solution would simply work and do everything that was expected of it from the beginning. It had to connect to the network, work across different devices, power and charge devices, connect to multiple monitor solutions, and do all of this in an easy to manage and easy to deploy way. They were on a mission to find a reliable dock product with suitable length cabling and a product that could offer a long-term tech solution without the need for regular hardware or software updates.
But most of all, MMC wanted to answer the problem of what to do with all of their different charger tips. This is where Targus could provide a differential to other solutions - a neat, tidy solution that other suppliers couldn't give.
The search:
Seeking a solution
After extensive research, site-visits to 30 other offices (Optus, Fujitsu, Microsoft & Vodafone to name a few), troubleshooting, and trialling and testing of different headsets, chargers, wireless solutions and docking stations, and a chance conversation, the project team discovered the existence of the Targus 3-way hydra cable. This turned everything around for them. It became an obvious choice and was a "lightbulb moment".
MMC's Office Technology Manager, Peter Hurring, and the one tasked with seeking the technology solution, was first to endorse the Targus option.
The Targus 3-way Hydra-Cable is a simple extension to the Targus Universal Dock Solutions that provides up to three different power tips at any one time for the different devices being used by employees. Many more tips are available for this solution, but to have three available on the desk via one cable that would power devices was exactly the answer MMC needed. No other similar solution was available on the market and this alongside the universal docking products made Targus stand out.
Additionally, the dual screen with the option of using a laptop for a third screen was a big win for the business; they were very happy to have this technical solution made available through the dock solution.
Many different power and dock products were found on the market - some were thinner, some had slightly different connections - but the Targus 3-way Hydra-Cable was the only one that could offer power. No other brands offered the same capabilities, the same quality and were unable to achieve the need for a tidy desk without excess cables.
Another consideration was ease - Targus included all the necessary screen adapters in the box, which was critical when there were 1200 monitors to be installed over a three day weekend.
"In short, the solution was exactly what MMC was looking for, they valued the skills and experience Targus brought even prior to purchase and the support provided throughout was exceptional."
- Senior Project Manager (IT), Jon Down.
 The Targus solution is also being pitched to all new MMC offices globally.