Fonterra Case Study
March 03, 17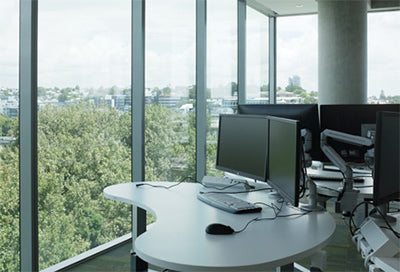 The Customer: Fonterra New Zealand
Fonterra is a global, co-operatively-owned dairy product company with its roots firmly planted in New Zealand's rich land, working to unlock every drop of goodness from the 22 billion litres of milk they collect each year and share with the world. Fonterra operates in more than 100 countries globally with 16,000 employees who work across the business.
The Challenge: Bringing people from 5 Auckland locations together into a new ABW enabled building
Fonterra New Zealand were faced with amalgamating employees from 5 locations into 3 (the main exciting development being the move into a new Head Office building for the company). This presented an excellent opportunity for the company to move from a traditional allocated desk layout to an ABW (Activity Based Working) environment. The major challenge of moving their 1,500+ Auckland based employees was to educate employees and empower managers to trust their staff to work in a new highly mobile and collaborative way whilst being supported by simple, consistent and reliable technology. Building trust in the change process and in the technology deliverables was a major part of the project. Although this would be a major cultural change for the company, the company realised there would be an excellent opportunity to develop a healthier and more collaborative working environment for its staff.
The Project: An ABW rollout over 3 years for 1,500 employees
Mike Saint (IT Service Owner at Fonterra) was chosen as the technology lead on the Ways of Working (WoW) project, due to his intimate knowledge of the business (having been with the company for over 12 years), the people and the technology infrastructure transformation which would be required. Mike identified that a vendor specific docking solution would not cater to the various brands of laptop and devices which would need to connect at the new work settings. Mike's experience as an IT lead meant he understood the importance of future proofing the ABW fitout, as it would be costly to replace docking stations in the future if the company decided to move from one brand of laptop to another. Running a mixed fleet during a transition process would be very difficult with a proprietary docking solution. Universal docks from several vendors were tested and Targus docks were chosen as a universal docking solution globally which offered the perfect solution for their needs now and in the future.
The Solution: Targus Universal Docking
Clever desk areas are arranged in areas which allow for 2 people to work collaboratively.
Mike Saint had worked with Targus on previous IT deployments, and elected to choose Targus for the docking station component of the rollout due to the product, service and expertise Targus offered. As part of the consultative approach Targus takes when assisting in ABW rollout projects, Scott Hitchen (New Zealand Targus Country Manager) became involved at the planning stage of the project, and enlisted Targus expert on Docking Stations David Mak based in Sydney to fly to Auckland and meet with Mike Saint and some of the other key decision makers at Fonterra. David Mak presented the options available to Fonterra and recommended what would be required for the fitout above and beyond just the docking stations - such as the need for Hydra Cables to allow up to 3 types of portable computers regardless of manufacture to easily connect and charge at an ABW desk. Fonterra decided on the ACP71AU dock because it provided the level of connectivity their workforce required as well as display resolution, power and charging support for their laptops and devices. At the implementation stage, Scott Hitchen enlisted the expertise of Targus Technical Solutions Analyst, Paul Dale from the Sydney office to assist onsite with testing and manage the trouble shooting process. Mike created an Experience Test Centre where Targus docking stations and other IT solutions were tested over a 12 month period before the new building fitout and first staff move in February 2016.
Added bonus: Targus developed software to solve a pain point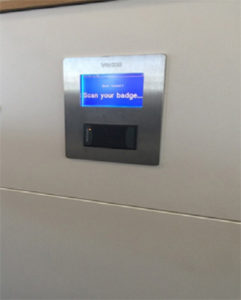 Fonterra selected a system for staff lockers on each floor of the building which allows self assignment of lockers by staff members using a single security access card integrated into the HR system. This kept locker numbers to a minimum, saving floor space and cost.
Fonterra discussed with Targus what they perceived as a potential issue in relation to dual monitors requiring to be reset to suit each individual when they set up at an ABW desk. Targus' Paul Dale understood the frustrations of employees needing to adjust their dual monitor set up each time they logged in, so Targus undertook a project to deliver a solution. Paul developed a software solution called Targus Monitors©, which allows for 5 monitor configurations which once selected, will automatically configure the monitors to the user's preference.

Mike's testimonial on why they chose Targus over the competitors:
"I chose Targus Docking Stations over the competitors because their product worked with all our equipment options with no issue. Their approach to working collaboratively with our team on the solution was great and I was particularly impressed that Targus created software for their docking solutions which addressed a pain point for Fonterra"
The Outcome: A successful ABW rollout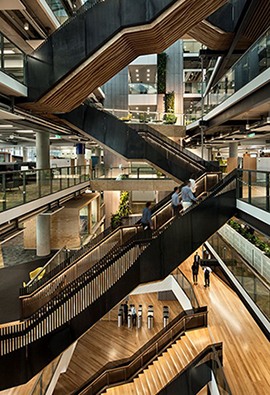 The premises of the new Fonterra building as just as stunning as it is innovative in its design.
The ABW project rollout went live February 29th 2016 and has been considered a great success, which Mike attributes to the pre testing phase via the Experience Centre earlier in the project ironing out issues and from the assistance of companies like Targus who collaborated with Fonterra throughout the entire process.

Mike's testimonial re working with Targus team:
"Fonterra have been really pleased with the level of involvement from Targus from the decision making stage, through implementation to the final testing stage. Scott Hitchen and his team provided excellent knowledge and advice based on their experience of dealing with ABW rollouts"
Mike Saint, IT Service Owner at Fonterra.